What Are The Best Trends in Men's Wedding Band 2017?
Is it almost time for you to tie the knot? That is great news! That is because most of the tough work is over. You have already picked the right person and the engagement ring for your SO. Choosing the right wedding band should be a piece of cake. The only reason most men get the jitters while picking a ring design is because they will be wearing it for the better part of their lives.
Gold, silver, white gold, platinum, and rose gold have always been the metals of choice for wedding bands. 2017 has brought a new trend in wedding band designs that is changing the façade of fine jewelry, as we know it.
The ultimate buying guide for all grooms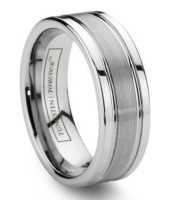 Wedding rings have a rich historical and cultural reference.Wedding bands are a comparatively newer addition. They became immensely popular during World War II. Men wore wedding bands as a symbol of their love for their wives and family. It is true that you will be wearing it 'till "death does you apart". You need to consider a number of factors before investing in your wedding band.
Picking the metal
The most common metal for wedding bands up until the 21st century is gold. With the new generation turning towards wearability and durability, tungsten is fast taking center stage in the wedding jewelry market.
Tungsten is a non-reactive metal. It is hypoallergenic. It is hard and resistant to easy chips and scratches. When we say tungsten, we mean tungsten carbide. The jewelry industry prefers the alloy of tungsten and carbide to handcraft pieces. Tungsten carbide is undoubtedly one of the hardest alloys in nature. It is tougher than aluminum. Most men who work outdoors or deal with heavy machinery prefer tungsten wedding rings to the conventional gold and silver.
Tungsten is very affordable. Traditional wedding rings and bands use gold, silver, and platinum. These precious metals will cost you a bomb. People will try to tell you how wedding rings are a smart investment. What they do not say is that the moment you engrave a wedding ring or band, you are depreciating its resale value for a couple of hundred dollars. Tungsten is pocket friendly. They will last you as long as your marriage. They will not incur scratches and they will always make their presence felt.
Picking the right design
Tungsten rings are durable. It has given birth to a myth stating it is impossible to engrave, redesign or decorate tungsten rings. It is true that tungsten is a robust metal. However, the sheer variety of styles in tungsten wedding bands will leave you gasping for breath.
Men's wedding bands in tungsten come in the following designs –
All tungsten plain rings
Two-tone tungsten rings
Brushed effect tungsten bands
Wood tungsten bands
Polished wedding bands
Wide bands
Tungsten rings with inlay
Black tungsten rings
Each one is different from the other. The designs are as varied as wedding band designs in other metals, if not more. The compatibility and hardness of the metal allow the craftsmen to experiment with all kinds of designs and styles. Inlaying tungsten with another metal is very popular among the modern grooms. The inlays can be silver, gold or colored metals. It adds a dash of vibrancy to an otherwise sober design.
Black tungsten rings and plain tungsten wedding bands are ideal for professionals. Lawyers, business executives and marketing professionals prefer the understated charm of these simple yet elegant designs.
Wood tungsten finishes and polished wide designs are for the wild soul. If you are a free spirit, you will love these new tungsten wedding band designs. It is the newest trend in wedding jewelries.
Match the ring
Your ring should have at least something in common with your SO's ring. The men's version of a wedding ring should match the woman's wedding ring in metal color and design.
Tungsten rings open a new world of masculine designs that fit perfectly with the ladies' wedding ring designs. Tungsten bands can match silver, white gold and platinum wedding ring designs. If your spouse is going for a gold ring, you can inlay your titanium ring with gold. It will save you tons of money and at the same time, keep you in sync with the wedding day theme.
If you don't have the time to think and find out interesting ways to make your rings match, you can always stick to the following practices –
Both of you should choose from the same class of metal
Get rings of the same width or matching design themes
Get similar or complementary engravings inside/on your rings
Can you get a tungsten ring engraved?
It is myth that you cannot engrave tungsten rings. The hardness makes it a little more challenging that gold rings or silver ones. Tungsten carbide rings are immune to the traditional engraving processes. Jewelers use a laser to engrave tungsten wedding bands. On the brighter side, the engraving will stay sharp forever.
Choosing the gemstone
Tungsten bands are a wholesome affair. Sometimes, grooms want gemstones on their wedding bands to match their bride's ring. You can customize your rings with diamonds or emeralds to match the theme of your wedding.
Customization of tungsten is easy. Since it is 10x tougher than gold, it needs special methods. However, the pocket-friendly price allows room for a lot of experimentation and personalization.
What is our take on men's wedding rings?
Choosing your wedding band should be fun. You should not have to sweat it to choose a metal and design. Just go with a design you like best. While choosing, remember that you will be wearing your choice for the better part of your life. We have seen many pick tungsten designs with personal engravings. Tungsten is the hipster of wedding band metals. It is cool, it is hip, and people love it! Always stay unique with the latest wedding band designs. For the latest prices of the best wedding rings in the wedding category, check out https://www.tungstenrings.com/.