A Handy Guide for Choosing Men's Wedding Bands
Choosing the right wedding band is just as crucial for men as it is for women. If the big day is fast approaching, you should not let the ring be an afterthought. It is something that you will wear for the rest of your life, and as a man, this may be the only piece of jewelry you will ever wear. So, it is essential to know specific details about wedding bands to select one carefully based on your preferences. You need to consider factors such as fit, finish, width, material choice, detailing, and engraving.
Considering width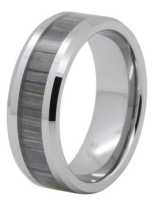 How wide would your band be? You can try on a few sample wedding bands of different widths and see which suits you the best. As a rule of thumb, a ring tends to be more expensive at it gets wider. However, you can wisely balance the size and price upon choosing a suitable metal, which fits into your budget.
Cut and finish
Men's wedding bands are now available in many modern cuts. The edges can be flat, curved, or form right angles on both the sides. Many prefer rounded edges, which are considered to be more comfortable while wearing on a daily basis. Before choosing a finish, try on various designs to identify which feels right for you.
A few terms you need to know about varieties of finishes in wedding bands include:
High Polish – This type of wedding band has a glazing finish. It is the most popular choice for most.
Matte – Solid, less reflective finish that gives a modern feel.
Combination – This new finish features an excellent mix of both high polish and matte textures.  
Hammered – It gives a hammer pounded effect with a textured effect. These are ideal for men who always want to draw attention with eye-catching ornament.
Next, we will discuss the choice of metals.
Popular choices in wedding band material

The traditional metals for men's wedding bands include platinum, yellow gold, rose gold, white gold, tungsten, and palladium. Let's discuss each one.
Platinum – Platinum is a highly durable material among the rest of the metals available on the earth's crust. It also does not cause any allergic reaction as the metal is hypoallergenic.
Yellow gold – As one of the most popular traditional choice, yellow gold is a classic choice which offers a subtle warm glow.
White gold – White gold is rhodium with gold plating, which is closely related to platinum and gives a brilliant white shine similar to platinum. However, it is much cheaper compared to platinum.
Palladium – Palladium is also from the platinum family, which looks similar, but costs far less than white gold and platinum.
Rose gold – It is a less common choice for men's wedding bands for its vintage effect. However, it is ideal for a groom who prefers to have a distinctive traditional look.
Tungsten – A solid and durable material, which gives a perfect bold finish to the wedding band. As this material is now widely accepted by men, there are many new varieties available in tungsten wedding bands.
What to consider while choosing men's wedding band?
There are some specific things to consider before making a choice. The rings you wear on the wedding have a special significance in your life. Here is how you can make it even more significant.
Consider your lifestyle

What kind of work do you? What are your hobbies? If you have to handle heavy machinery or undertake activities that can potentially damage your ring, you need to select the metal wisely. In this case, durability is the most important aspect to consider. It must also be balanced with appropriate weight, especially if you are planning to choose one with mounted stones. Check the following points while considering durability vs. weight of the wedding bands.
Silver is, of course, more affordable, but is not a very durable material to be considered. Unless you plan to stick to the budget for now and upgrade the ring after a year or two, silver is not the best option to consider.
Platinum is durable but quite heavy.
Titanium is more durable than platinum and weighs less, which makes it an ideal choice for many.
Palladium is also a good alternative to platinum as it is a durable and lighter material.
Tungsten is both durable and affordable, and there are many varieties available to choose from.
Highlighting your personality

You need to try and describe the bands with the best possible adjectives that match its essence. If you find these qualities do not fit well to you, it is not the ideal piece. Traditionally, men choose gold or silver bands to wear on wedding days. Precious diamonds or birthstones can add more personality to the bands.
There are also choices in colors matching to your personality such as red represent boldness. If you are more on the reserved side, you may go with some unobtrusive diamonds. On the other hand, if you like to show off, you may want to have a special intricate design. Tungsten bands are favorite among the new-age, tech-savvy men. Tungsten rings are also much affordable and strong.
Cost
We know that weddings are usually highly expensive. Even when you have many lofty dreams about the day, in reality, most of the time you may have to compromise on certain things. Gold and platinum are usually high priced. However, there are cheaper tungsten options available both online and offline. Silver is also much affordable, but men don't prefer silver bands much.
Along with all these factors, one thing you should never forget is that the groom's wedding band should go along well with the bride's wedding ring. For those who are searching for cost-effective wedding bands for the very special event, find plenty of options in tungsten wedding rings at https://www.tungstenrings.com/.